Webinar: MPS' Power Inductor Parameters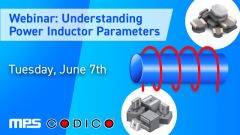 Agenda
Short Introduction
What is an inductor?
Power inductor parameters
MPL inductors
In this webinar we will help you to understand power inductor parameters to provide guidance on how to select the optimal inductor for a solution while predicting the inductor's performance when designing a new DC/DC converter.

The webinar will be held by Sven Spohr, Power Magnetics Engineer MPS and Sebastian Gebhart, Product Line Manager CODICO.
REGISTER NOW! - Session 10:00 a.m.
REGISTER NOW! - Session 5:00 p.m.
Your Contact Person