Inductors for Class-D LPF
Filter Chokes for Class D amplifiers (10W to 300W)
One of the most popular digital amplifier topologies in the automotive and consumer sector is that of class D. The compact size and the low heat dissipation speak for it as well as a quite cost-effective design. Pulse width modulation is used to convert the analog input signal into a square-wave signal whose voltage averages approximately follow those of the analog.
The filtering of the unwanted modulation frequency, usually in the range of 300kHz to 3MHz, is done by the downstream 2nd order low pass LC filter. At this point inductors of highest quality are required to keep the Total Harmonic Distortion(THD) as low as possible.
Samples
Contacts
News
Manufacturers & Contacts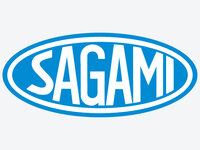 SAGAMI
SAGAMI Elec is one of the leading Japanese manufacturers of special winding components. Among other things, SAGAMI focuses on niche applications and offers products for the high-end sector. The power chokes for LPF in Class-D amplifier applications in the automotive and consumer sector are SAGAMI's flagship products. Furthermore, the specialization also includes inductors with increased DC dielectric strength up to 600V, for e.g. non-isolated HV-Buck applications.
Infos
Samples