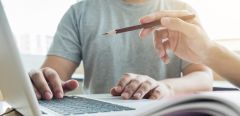 Ideal Conditions – From the Very Start
An apprenticeship at CODICO is the cornerstone toward a successful professional career. You are an integral part of the team from the very beginning, and you quickly learn to work independently and take on responsibility. By rotating through all departments, you will obtain an insight into the entire company and will be best-prepared for a career at CODICO. Take the first step into your career at CODICO!
"We see our trainees as employees we want to shape the future with! We look forward to welcoming talented young people in our team." (Karin Krumpel, CEO CODICO GmbH)
Forge Ahead in Our Team
We want you to feel comfortable with us from the very beginning. We will appoint a trainer for you who will accompany you throughout your entire training. As your mentor, he will be there for you in case you are having difficulties, and he will assist you with issues within your work area and beyond.
In addition, you will benefit from experienced colleagues who will act as a source of good advice and help, and who will support you in your development as best they can.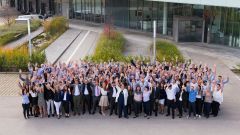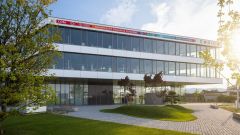 Your Workplace
CODICO is very easy to reach by commuter train (S-Bahn). Our company is located directly at Perchtoldsdorf train station.
Your workplace is inside our state-of-the-art logistics centre and office building. In addition, you have access to our 12,000m² recreational park, the CODICO Central Park, which features sports and fitness facilities, and a large pond.
Vocational Training at CODICO
We are currently training to become an Operating Logistics Agent (m/f).
Training period: 3 Years
Vocational school: Theresienfeld Regional Vocational College (with boarding school)
Your training is carried out in blocks: You will spend ten weeks per year (five weeks in the last year) in school, and the rest of the time with us in the company.
The focus of the training is of course in the area of warehouse & logistics. But in each training year you will also work in other groups such as financial accounting, inside sales or quality management, according to your individual training plan.
Warehouse
Helping out at goods acceptance
Computer-aided monitoring of goods movements
Management of customs documents
Packaging of simple shipments
Logistics
Assistance at logistics reception
Introduction to customs matters
Computer-aided monitoring of shipments
Processing of incoming shipping documents
Warehouse
Independent goods acceptance
Picking and handling of goods for the automatic small parts warehouse
Storage of goods into the automatic small parts warehouse
Independent computer-aided monitoring of goods movements
Logistics
Creation of shipping documents and notification of shipments ready for collection
Working with shipping software
Processing of complaints
Collection of offers
Organisation of meetings within the group
Querying of stock and booking processes
Warehouse
Packaging of complex deliveries
Organisation of shipment and collection of consignments
Preparation of transport documents
Logistics
Freight calculation and information
Collaboration and organisation of meetings across groups
Use of foreign languages in daily work routine
Monitoring of delivery deadlines and measures
The Attributes You Bring to the Team
Pleasure in physical work
Commitment to performance and enthusiasm
Honesty and reliability
Willingness to learn something new
Readiness to accept challenges
Good manners
Good Reasons to Choose CODICO
Apprenticeship pay that is well above the collective agreement minimum
Opportunity to be trained as fork-lift operator
Support to improve your English language skills
Of course, our apprentices also enjoy our Benefits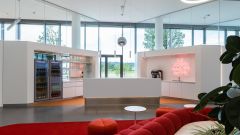 Tips Regarding Your Application
We receive many applications each year. We are looking for young people who want to be challenged and promoted, who will tackle their tasks with a strong sense of motivation, and who are prepared to learn something new. To leave an excellent first impression, simply follow a couple of essential tips.
Send complete application documents! These include an application letter, a complete resume starting with the first elementary school class, and at least one current certificate.
The application letter must always be addressed to the person shown as contact in the job advertisement or on our website.
Inform yourself about CODICO and think about what you like about the company in particular. You are welcome to point that out in your application letter (e.g. "What interests me in particular about your company is…")
Your resume should provide an overview of your school career and your first professional experience – if already available. But it is your personality that weighs more. You are welcome to mention any interests or hobbies you currently engage in or did so in the past.
Please provide a portrait photo for your resume. Selfies or party pictures are better suited for private purposes.
Send your application by e-mail.
Please send your complete application documents by e-mail.
If we like your application documents, we will invite you for a personal interview with our apprenticeship officer.
If your first interview is convincing, we will invite you to another meeting with your future trainer and our warehouse manager.
If both sides agree, our confirmation and the signing of the apprenticeship contract will follow.
Show up in time. It is definitely more pleasant to wait a few minutes for your interviewer in our beautiful premises than to arrive completely stressed at the last minute.
Inform yourself about our company on our website prior to your interview.
Dress code: A suit and a tie are not necessary, but put some proper clothes on and you can't go wrong.
You don't need to be nervous. Our interviews take place in a relaxed atmosphere.
Be honest and authentic. We want to get to know the real you. This is the best way to find out if you suit us.
Your Contact
Do you still have questions about the training at CODICO or about the application process? Your contact Claudia Winkler will be happy to provide good advice and help.