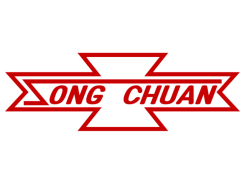 SONG CHUAN
Song Chuan is a world class provider manufacturer of power electromechanical relays with over 45+ years of experience.
Founded in 1974, providing switching solutions for Industrial, Automotive, Appliance, HVAC, Power and Green Energy Applications. A few years ago, SONG CHUAN shifted their strategic focus to developing relays for Green Energy applications.
Samples
Contact Person
Electromechanical Power Relays
The SONG CHUAN Group of Companies, with world headquarters located in Taipei, Taiwan, is privately held Taiwanese company with eight global business units (companies) and four manufacturing facilities. SONG CHUAN gives maximum attention and efforts towards innovation and R&D and produce a complete range of Electromechanical Power Relays that can fill your existing and future demands. SONG CHUAN continues to grow by supplying quality relays with professional technical support, on time delivery, and competitive pricing for all customers.
Technical Competence
SONG CHUAN's technical service strategies include: Working closely with customers, manufacturing products with improving technologies, utilizing innovation and progressive thinking. Collecting market information and customer requirements helps to assist in new product designs, and to develop new products with a complete range of advanced APQP / PDCA quality control. They use their IEC 17025 certified laboratory to test reliability from proto-type to and mass production. From the product development of piece part design, tooling, and through to production process design, SONG CHUAN's in-house technical team is pursuing the goals of developing competitive products and creating value for a win-win solution for all our customers.
Certifications:
SONG CHUAN is certified by ISO 14001, ISO 9001 and IATF 16949. They are continuously improving their quality and performance and have a well-organized and documented QA/ QC system.
The products are RoHS-compliant and are listed in accordance with CQC, TÜV, UL – CUL and VDE
Relays for Green Applications
Electric Vehicle Charger applications e.g. Wallbox, Cordset, OBC
Photovoltaic Relay
General Industrial and Building Management application
Your Contact for SONG CHUAN