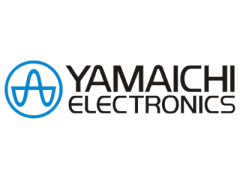 YAMAICHI ELECTRONICS
YAMAICHI ELECTRONICS was founded in 1956 in Tokyo. 1991 the company got main shareholder of Connector Service GmbH, which was rebranded to YAMAICHI ELECTRONICS Germany GmbH in 1993. Since then both firms are working in tight cooperation, which enables them to use both manufacturing plants and development centres in Asia and Germany.
Samples
Contact Person
First Choice for Contacting Semiconductors
YAMAICHI ELECTRONICS is the first choice for contacting of semiconductors. As world market leader in the field of IC Test- and Burn-In Sockets YAMAICHI ELECTRONICS provides a range of solutions. Whether you are looking for Pin-TH- or SMD-components in various construction forms in pitch 0.4mm to 2.54mm you will find a solution for every application.
Wide Selection of Connectors and Cable Assemblies
Moreover, YAMAICHI ELECTRONICS provides a wide selection of connectors including all kind of smart card connectors fulfilling the current flash memory standards. The circular connector series M12 and Push-Pull are developed and produced in Germany. They show additional innovations and unique selling features compared to the competitors without losing the compatibility to them.
Besides the standard circular connectors individual solutions can be realized. Furthermore, YAMAICHI ELECTRONICS provides cable assemblies with standardized components and special designs as well as customized cable harnesses and complex systems.
Certifications
Since YAMAICHI ELECTRONICS is very successful in the automotive industry all their production facilities for automotive connectors are certified in IATF16949 . Moreover, the German subsidiaries are certified according to ISO 9001.
Order samples of YAMAICHI now! To keep your time to market as short as possible, the latest samples are available in our shop.
Your Contact for YAMAICHI