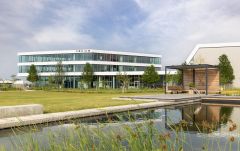 Where We Live Our Values
CODICO has been at home in Perchtoldsdorf for over 40 years. In 2019, the family-owned company started enlarging its site to accommodate the company's recent growth. In addition to a modern office and an upscaling logistics centre, the headquarters offers its employees a recreational park. The 12,000m² "CODICO Central Park" was built on an empty plot next to the CODICO office building and openend in July 2020.
True to the motto "Those who sow flowers for others, they themselves will bloom", the Central Park should not only be a place of calmness and relaxation, it will most of all provide a healthy living space for people, plants, and animals, thus reflecting the core values of our family business.
We Bring the Office Into the Garden
In today's work environment, work-life balance is an essential motivation factor. For this reason, CODICO decided to take a progressive approach and created something probably unique in Austria. With the large recreational park we offer our employees and their families an environment that helps reconcile professional and private life.
Our CODICO Central Park offers outdoor working spaces. A meeting pavilion is available as well as all necessary facilities and seating for mobile working. The entire park is equipped with Wi-Fi, so that telephone calls or meetings can now take place in the garden.
"We want to be an employer who creates an attractive environment that meets society's needs and encourages everyone to come and work with us for the long term. Everybody should feel comfortable in our office." (Sven Krumpel, CEO CODICO GmbH)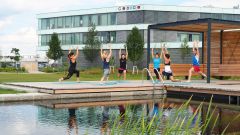 Nothing Like Sports
It is no secret that sport and exercise increase physical well-being. With numerous sports facilities in the immediate vicinity of the office, motivation can be significantly increased. A joint workout with colleagues during the lunch break or after office hours is particularly enjoyable.
Our employees have the opportunity to practice in a dedicated yoga space, compete against each other on the pétanque grounds or simply relax together at the pond. Of course, all facilities including sanitary facilities can be used around the clock and also on weekends.
The Following Facilities Are Available
Calisthenics facility
Yoga space
Running track with 330m
Pond
Pétanque/Boccia court
Numerous open spaces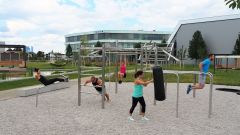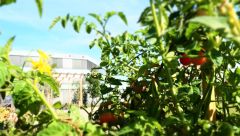 Our Corporate Farming Project
Our Corporate Farming Project, as an important part of our overall concept, gives green-thumbed employees the opportunity to get their hands dirty whenever they feel like it. In addtition, numerous types of fruits and vegetables were planted, so that employees can directly provide themselves with fresh produce. Our gardener takes great care of the CODICO Central Park and is available to all hobby gardeners with advice and assistance.
For CODICO, it is important to to ensure that the entire garden is cultivated exclusively organically. That's why we decided from the very beginning to avoid the use of any chemical or synthetic pesticides, fertilisers, or peat.
Relaxed Get-Together
In addition to sports and fitness facilities, CODICO Central Park is also meant to be a place of calmness and rest, and also offers space for relaxed get-togethers.
Our barbecue area is used for lunch breaks as well as for an after-work drink with colleagues. The said get-togethers are not exclusive for members of the CODICO team, their families are also very welcome. A fully equipped outdoor kitchen as well as a large gas barbecue offer the best conditions for a barbecue evening with colleagues or family.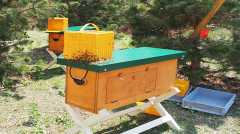 Team Honey Bee
In cooperation with "Stadtbienen.org", we have established four bee colonies on our company premises. At CODICO there is plenty to do for our honey bees. After all, we have ensured that countless ornamental, vegetable and site-adapted wild plants, herbs and fruit trees serve as a food source at our site.
With this project, we are not only supporting bees, but all local biodiversity and species diversity within a radius of up to five kilometers.