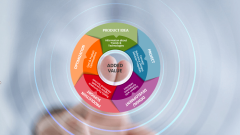 Our Scope of Services
Although our name comes originally from "COmponent DIstributing COmpany", CODICO offers much more than conventional distribution. Today CODICO means COmponent Design-In COmpany. And as design-in distributor, CODICO has set itself the goal of providing you with the optimal solution for every application.
Our engineers with many years of experience in the field of technical customer consulting will accompany and support you in your development process. Together with our partners and our extensive portfolio, we ensure to offer you the best possible solution.
CODICO also keeps a close eye on prices and lead-times, ensuring the right parts are delivered to the right place at the right time. Our ability to include flexible customer-specific logistics is also a key strength of CODICO.
Technical Support
Logistics Solutions
CODICO Samples - For a Fast Time-To-Market
Our product range includes high-quality active components and passive components, as well as interconnect systems. We want to help you bringing your products to the market as soon as possible. That's why more than 5,000 of the latest electronic components from 26 different manufactuerers are ready for you to order online at our website.
It's as simple as that. In addition to the advantage of free delivery, other highlights are its user-friendliness and, of course, the selection possibilities which helps to select exactly the right sample for you.
An added bonus is that you can always find the right person to talk to, and that means the real specialists, people with the expert know-how to deal with every enquiry. Try it for yourself. The right sample or demo board is waiting for you. We wish you a successful online shopping experience!
See All Samples
Ordering Options & Shipping