How Hall Sensors Work
Hall ICs detect magnetic fields and issue an output signal that is proportional to the intensity. Basically there are many different formats in the field of Hall sensors. They all have in common a position measurement based on changes of the magnetic fields. There are pure Hall elements, which only reproduce the Hall effect, with versions made of different materials. These are used to generate different values of sensitivity to magnetic fields.
A further integration is the merging of the Hall elements with evaluation electronics. In this case, a digital signal is already derived from the modules. This signal can simply indicate the presence and the directeio of a magnetic field, as well as the direction of the magnetic field. It may also have a latch integrated, which allows for the electronics to note the status which was detected previously. Many manufacturers go even further and build Hall ICs that immediately output position information for a rotary transducer.
Samples
Contacts
For the Detection of Linear or Rotary Motion
Hall ICs are used for the detection of linear or rotary motion in metering, automotive, engine and industrial applications.
MPS offers integrated angle sensors based on the patented SpinAxisTM technology. An array of hall elements is continuously scanned, allowing absolute angle determination with extremely low latency. The sensor can be mounted end-shaft, side-shaft or side-shaft orthogonally. A wide range of detectable field strength enables simple and thus cost-effective mounting. These sensors are used for angle coding and direct motor control. Further details about MPS' angle sensors can be found in the datasheet.
Manufacturers & Contacts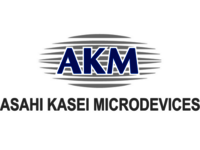 AKM
AKM offers customers optimized solutions using a wide range of semiconductor sensors. AKM uses analog/digital mixed-signal processes as a technology. Especially the audio and voice ICs, which combine high sound quality with low power consumption, have made AKM a major player in the high-end audio IC market.
Infos
Samples
ALLEGRO
ALLEGRO MicroSystems is a leading manufacturer and developer of high-performance power and Hall-effect sensors for integrated circuits. Their innovative solutions serve high-growth applications within the automotive, communications, computer/office automation, consumer and industrial markets. The product range includes Hall-effect sensor ICs, motor driver ICs, power conversion devices, power interface ICs and power management ICs.
Infos
Samples