From Parallel to Serial and USB Interfaces
Interfaces of different types are used in many devices today. If these devices should be connected, modules are required to convert one format to another. There is a wide range of options for converting from one format to a defined other format. A special, already very old format is the serial interface. There is a wide range of end devices that offer such an interface type. This results in the need for ICs that connect more modern formats to a serial interface.
There are components that convert PCI (parallel) into several serial interfaces. If you are already using the more modern PCIe (serial) interface, there are several ICs that convert back to a different number of serial interfaces and also to USB.
Samples
Contacts
If You Have an USB Interface
On the other hand, if you have an USB interface, there are ICs that convert back to serial or parallel interfaces. All these ICs end in the digital area of the respective interface. Especially for the serial interfaces, however, driver components are also required for the actual physical connection. Mostly RS232 or RS485 transceiver components are used here.
Manufacturers & Contacts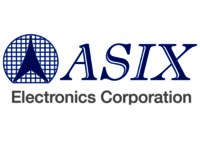 ASIX
The offerings of the fabless semiconductor supplier are as follows: Embedded Ethernet, EtherCAT, Industrial Ethernet, Superspeed USB-to-LAN, Embedded Networks and I/O Connectivity products from company Zywyn.
Infos
Samples