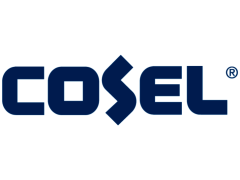 COSEL
COSEL is Japan's market leader in the manufacture of high quality power supplies and DC-DC converters for medical and industrial applications. The company offers AC-DC and DC-DC converters as well as mains and DC filters of the highest quality and in a wide range of form factors. COSEL's product portfolio ranges from classic open card power supplies, DIN rail power supplies and on-board print modules to modular plug-in solutions. The DC/DC converters also include all common designs in PTH as well as SMT in brick and industrial designs.
Samples
Contact Person
High Grade Components Designed for Highest Reliability
COSEL was founded in 1969 and is headquartered in Toyama, Japan. COSEL offers AC-DC, DC-DC converters and noise filters in the highest quality and in various form factors, such as open card, open frame, DIN Rail, potted for PCB mounting. The products are typically developed for telecommunications, harsh industrial environments and medical appliances.
COSEL uses high grade components designed for highest reliability, while their long-lasting availability supports "conservative" industrial and medical product life cycles. The heavy duty power supplies usually come with very long warranties of 5 years plus, offer peak capability of 150% or more for 40% duty cycle.
COSEL Product Selector App
The most comprehensive product range at glance is available via the new COSEL Product Selector App - Fast pace product selection!
Eversince the acquisition of the Powerbox Group in Summer 2018, COSEL now offers a more comprehensive portfolio of standard and semi-standard solutions for the medical, railway and industrial market. With design centres in Germany, Sweden and the Netherlands quick and local customizations for the European market become reality.
COSEL manufacturers all products by themselves in order to guarantee highest yield and cost efficiency. Apart from ISO9001 and ISO14001 certificates, COSEL products are - according to the application - fully approved to IEC/EN62368 and/or IEC/EN60601 4th Edition.