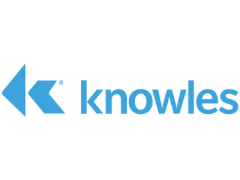 KNOWLES
KNOWLES is market leader and global supplier of performance audio, intelligent audio as well as special components for mobile communication, consumer electronics, hearing health, military/space and other industrial end markets. In 2001 the first surface-mounted MEMS (Micro-Electrical-Mechanical-Systems) microphone was introduced by KNOWLES. With the addition of Audience in 2015, a mobile voice and audio-processing company, KNOWLES offers a comprehensive range of products for applications in the audio system area.
Samples
Contact Person
Micro-Acoustic Audio Processing Solutions
KNOWLES Corporation designs and manufactures micro-acoustic audio processing and specialty component solutions to the mobile consumer electronics, communications, medical, military, aerospace and industrial markets worldwide. The company operates in two segments- Mobile Consumer Electronics and Specialty Components.
The Mobile Consumer Electronics segment designs and manufactures acoustic products, including microphones and audio processing technologies for use in mobile handsets, wearables and other consumer electronic devices. This segment also offers analogous and digital micro-electro-mechanical system microphones, smart microphones, software, ultrasonic sensors, and acoustic processors.
KNOWLES engineers and produces customized microphone designs for mobile consumer electronics, hearing aids applications and emerging IoT devices.
SiSonic Surface Mount MEMS
New MaxRF models eliminate GSM/TDMA burst noise and provide wide band RF noise suppression
Ultra Mini footprint – less than 11.5mm
Slim Ultra Mini footprint – less than 8.5mm
Digital mics eliminate analog noise MEMS
Your Contact for KNOWLES