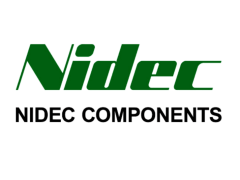 NIDEC COMPONENTS EUROPE
A passion for innovation and very high production quality have made NIDEC COMPONENTS EUROPE GmbH one of Japan's leading manufacturers of switches (coded switches, slide switches, etc.), potentiometers and encoders.
Samples
Contact Person
Manufacturer of High Quality Switches
NIDEC COMPONENTS EUROPE GmbH is a manufacturer of high quality switches with over 40 years of experience and technical expertise. The continuous development and improvement of production technologies and production processes is a key objective of the company due to the high-quality components.
For example, contact-circuit processes, thick film printing processes and automation technology from NIDEC COMPONENTS EUROPE in mass production of trimming potentiometers, coding switches and other electronic circuit components is state-of-the-art. Because of that, products of NIDEC COMPONENTS EUROPE give a great quality/price ratio.
Product Range
DIP-Switches
Slide Switches
Trimmer Potentiometer
Rotary Coded Switches
Tact Switches
Lever and Rocker Switches
Encoders
Illuminated Pushbutton Switches
Toggle Switches
Rotary Switches
Key Switches
Applications
Due to its high quality production standards, the company is able to offer its products to markets like: medical, industrial controls, automation, construction equipment, communication equipment, security and surveillance equipment, etc.
Certifications
NIDEC COMPONENTS EUROPE is certified according to:
Your Contact for NIDEC COMPONENTS EUROPE