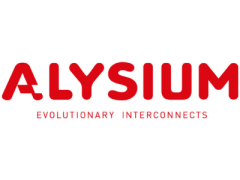 ALYSIUM
ALYSIUM-Tech is your partner for high-performance interconnect solutions. The company offers a wide range of solutions from connectors and wires of all kinds, to standard compliant or highly customized cable assemblies. Strong production and engineering capabilities contribute to high quality, superior, reliable and cost-efficient solutions, that will enhance your competitive advantage. ALYSIUM-Tech focuses on its individual core competences in the areas of automotive electronics, industrial automation, information technologies, medical devices and telecommunications.
Samples
Contact Person
ALYSIUM's Portfolio
FFC/FPC connectors (0.3 to 0.5mm pitch, ZIF, LIF, Auto-lock)
Display Connectors (0.5 to 1.25mm pitch)
RF Coax Connectors
Circular Connectors (Series 60)
FFC cables (shielded and impedance controlled solutions)
Industrial and automotive cable assemblies
Quality Management
Superior quality is a prerequisite property of all of their products and services. This is achieved by using product qualifications like UL or CSA, or facility based certifications like ISO 9001 or ISO/TS 16949. Submission of support documentation, such as PPAP, PSW and ISIR is familiar and available on request.