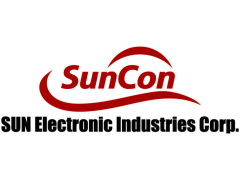 SUNCON
SUNCON is a Japanese manufacturer of high quality aluminium electrolytic capacitors with more than 50 years experience in development and production. In 2005 they introduced world´s first polymer-hybrid e-cap to the market, which provides big advantages compared to conventional e-caps.
Samples
Contact Person
SMT-Caps With Low Impedance and Long Life Time
Formerly known as Sanyo, the Japanese manufacturer SUN is selling their products themselves as brand name SUNCON since 2009. The portfolio covers valuable aluminum electrolytic capacitors including hybrid version.
The strength of the ISO/TS16949, ISO9001 and ISO14001 certified company are the SMT-caps, especially with low impedance and long life time, which are also CODICO´s focus of this supplier. The production for the European market is in Japan.
Order samples of SUNCON now! To keep your time to market as short as possible, the latest samples are available in our shop.
Your Contact for SUNCON