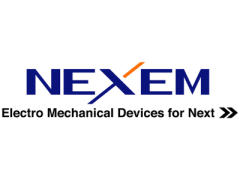 NEXEM
NEXEM (former NEC Tokin) is a Japanese manufacturer with longtime experience in developing and producing electromechanical components. With their own in-house development and production, NEXEM provides a wide product range of different high quality components. All products are ISO9000 and ISO14000 certified. In the field of electromechanical components, NEXEM is a specialist for signal relays of the 3rd and 4th generation and automotive relays.
Samples
Contact Person
High-Quality Electromechanical Components
The electromechanical part of the business has been sold to a Japanese industrial investor group. The new company name is EM Devices Corporation. Besides the change in ownership and branding, there will be no changes of product, production locations, processes and key functions. The product labelling will be adjusted step by step and effects only the logo.
Order samples of NEXEM now! To keep your time to market as short as possible, the latest samples are available in our shop.