A Wide Range of Wi-Fi Modules for Each Interface
Wi-Fi radio modules are offered in a large number of different versions. One of the most important selection criteria are the interfaces, which often depend on the type of the application processor, the required data speeds, the form factor, and the power dissipation. In recent years, PCIe, USB, SDIO as well as SPI and UART have become the widely accepted choices for Wi-Fi radio modules. The latter ones are often preferably used for IoT (Internet of Things) applications, because these do not require high data speeds (mostly not more than a few kbps) but provide low power dissipation and small form factor size.
Samples
Contacts
News
USB, SDIO and PCIe Interfaces
USB 2.0, on the other hand, offers significantly higher data rates and allows an equally space-saving integration with 4 lanes. At a gross data rate of 480Mbps (USB 2.0, high speed), the 802.11n standard can easily be used in a MIMO 2x2 operation (antenna data rate of 300Mbps). By contrast, the 802.11ac standard in a MIMO 1x1 configuration (antenna data rate of 433Mbps) is enough to push this interface (USB 2.0) to its limits.
SDIO is often preferred in industrial applications over USB because the interface is more reliable and stable at similar data rates.
PCIe Mini Card is by far the interface with the highest data rate and is therefore the preferred solution for the 802.11ac broadband standard, but also has the highest power dissipation rate and space requirements. Due to the PCIe Mini Card specifications, all modules are available with the same mechanical interface, which requires a 52-pin connector on the target hardware. Therefore, PCIe modules are mostly used in PC-based systems operating with Linux or Windows.
CODICO offers a wide range of Wi-Fi modules for each interface and each standard 802.11a/b/g/n/ac. Most of these modules support several antennas (MIMO: Multiple Input Multiple Output) to increase data rates or to allow for the use of the Rx- and Tx-Diversity technologies. While modules with USB, SDIO, SPI and UART are offered in MIMO 1x1 and 2x2 designs, the PCIe modules support multiple antenna systems up to a maximum of MIMO 4x4. For 802.11ac, CODICO even offers solutions with MU-MIMO 4x4 (MU:Multi User), a new technology that allows the simultaneous transmission of independent data streams to different clients. Many modules are CE, FCC, and IC certified and are available in commercial or industrial temperature ranges.
Manufacturers & Contacts
8DEVICES
8DEVICES is specialized in SOM (System on a Module) and combo radio modules for Wi-Fi and Bluetooth that are all based on QUALCOMM chipsets. The company's extensive experience in hardware and software development allows it to offer high-quality and reliable modules. As QUALCOMM's Authorised Design Centre (ADC) partner, 8DEVICES also supports custom designs and offers customized software and hardware solutions to meet your specific requirements.
Infos
Samples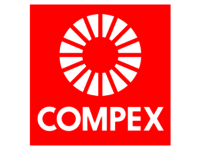 COMPEX
COMPEX has a long history of working with QUALCOMM and specializes exclusively in their Wi-Fi radio and SoC devices. COMPEX is therefore an official ADC (Authorized Design Center) of QUALCOMM and offers its customers innovative reference designs as well as support for hardware and software development.
Infos
Samples
FN-LINK
FN-Link is specialized in the development and production of "low cost" and "small footprint" WiFi and combo radio modules. The latter solutions support Bluetooth in addition to WiFi.
Infos
Samples