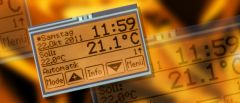 Graphic LCDs Have a Freely Writable Pixel Range
Graphic LCDs differ from other passive matrix LCD displays in that they have a freely writable pixel area. Graphic LCDs are defined by the number of horizontal and vertical pixels. For example 128x64 pixels means 128 pixels horizontally and 64 pixels vertically. The range of graphic LCDs covers a large number of standard types, starting with 64x48 up to a resolution of 320x240 pixels.
We would be happy to advise you on your specific project and support you in choosing the right display! Customer specific adaptations can be created for all types of graphic LCDs.
Samples
Contacts
News
Display Types for Graphic LCDs
For graphic LCDs, the display types STN and FSTN are often used as standard. In the STN Blue, STN Grey and STN Yellow-Green variants, the desired display colour can be achieved in the appropriate combination with various LED backlights. And the "Negative Mode" enables a colour reversal in the display.