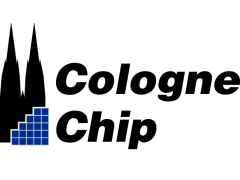 COLOGNE CHIP
COLOGNE CHIP started off with Communication ICs for the Subscriber Line Applications. Recently, they have introduced a SRAM-based FPGA family called GateMate. The FPGAs are characterized by low power consumption, a new logic cell and a new routing structure. The first products target low and medium sized gate counts. COLOGNE CHIP also offers ISDN controller ICs for basic and primary rate access as well as highly integrated HDLC controller and ISDN transceiver chips for voice gateways and modems/routers with built-in voice termination.
Samples
Contact Person
Focus on ISDN Controller ICs and FPGAs
In 1994, a group of German electronic engineers founded COLOGNE CHIP with the aim of developing and manufacturing the ASICs required for ISDN equipment.
COLOGNE CHIP is specialized in the development and production of ISDN controller ICs for basic rate and primary rate access. In 2020 COLOGNE CHIP added the SRAM based FPGA Family GateMateTMto its portfolio. The first available devices have a medium capacity from 40k to 120k logic gates. Higher densities are under development. With the new FPGAs, the company addresses a wide range of applications in automation, communication, security, automotive, IoT, lighting, etc.
In additon COLOGNE CHIP offers highly integrated HDLC controller and ISDN transceiver chips for a broad variety of ISDN applications, such as PABX, digital phones, VoIP gateways, Integrated Access Devices (IAD) and POS terminals. For PC add-on cards there are single-chip solutions available.
Nowadays, COLOGNE CHIP's ISDN transceivers are in growing demanded for Residential Gateways for broadband access via xDSL, cable, 4G or fiber optics. The company is thus contributing to the migration from traditional PSTN to IP-based next generation networks, underlining its technological leadership in the ISDN market.
Focus on Innovation
As an innovative company from the very beginning, COLOGNE CHIP holds a significant number of patents and registered intellectual properties – besides ISDN also in CODEC technology (ADC/DAC) and in other fields. Consequently, the company not only supplies its standard products, but increasingly supports customer ASIC projects by granting licenses of intellectual properties (IP blocks).
All chips are built in pure digital CMOS architecture which leads to utmost stable quality and makes high functional integration possible – at excellent prices. Due to the patented technology, line interfaces for ISDN S/T or E1 are also part of the chips.
Your Contact for COLOGNE CHIP