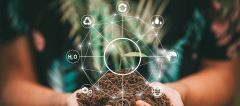 Responsibility for Climate and Environment
As a wholesaler for electronic components, we provide all the required information regarding the protection of the environment, based on the information of our suppliers, to the best of our knowledge and belief.
Our processes are designed in such a way, that they are as efficient and energy-saving as possible. We reduce the environmental impact, through worldwide consolidated shipments from our manufacturers by ship, as well as through weekly collective consignments to our customers. CODICO strives to ensure that goods arrive in perfect condition at our customers, therefore we take precautions to pack them accordingly. CODICO uses pad-pack-paper as filling material.
Our office and logistics building are built and furnished under consideration of environmental aspects – such as an energy-efficient cooling system, use of energy-saving lamps and devices as well as reduction of electro smog. Our waste management concept includes information on the expected waste, as well as operational measures for the avoidance, recycling and disposal of waste.
In our sustainability policy, we disclose how we perceive our corporate responsibility today and in the future.
Our Sustainability Policy
Our Sustainability Policy
To learn more about environmental protection at CODICO download the file below.
Your Contact
If you have any questions about environmental protection at CODICO, you are welcome to approach our quality manager: