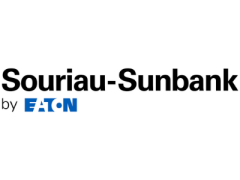 SOURIAU
SOURIAU-SUNBANK by EATON designs and manufactures high-performance and high-reliable interconnection solutions. At the leading edge of technology, SOURIAU-SUNBANK by EATON connectors are designed to withstand the harshest environments including extreme temperatures, high vibration and highly corrosive fluids in aviation, defence and space, heavy industry (railway and mass transit, nuclear, oil & gas) and industrial equipment markets.
Samples
Contact Person
Circular and Rectangular Connectors for the Industrial Market
SOURIAU-SUNBANK by EATON has a large portfolio of circular and rectangular connectors and offers products qualified to international standards (MIL-DTL, EN, UL/IEC, etc.) as well as proprietary products to serve customers in aerospace and industrial markets for harsh environments and critical applications.
SOURIAU-SUNBANK by EATON is also offering its own in-house overmolding cable assemblies for the industrial market. Overmolding is a process that enhances the sealing properties and helps to minimize stress on the cable termination to the connector. The wires are encapsulated inside the molding which creates a barrier preventing liquid/moisture from entering the equipment through the connector or cable jacket if breached.
Order samples of SOURIAU-SUNBANK by EATON now! To keep your time to market as short as possible, the latest samples are available in our shop.
Your Contact for SOURIAU