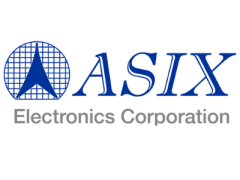 ASIX
The offerings of the fabless semiconductor supplier are as follows: Embedded Ethernet, EtherCAT, Industrial Ethernet, Superspeed USB-to-LAN, Embedded Networks and I/O Connectivity products from company Zywyn.
Samples
Contact Person
Focus on Networking, Communication and Connectivity Applications
ASIX Electronics Corporation is a Taiwanese leading fabless semiconductor supplier with focus on networking, communication and connectivity applications. The company was founded in May 1995. Its customers include those companies with premium brand names in the networking and communication industries. The company has been certified as an ISO 9001 and 14001 supplier.
ASIX Electronics provides innovative, and yet cost effective products to the customers for emerging communication and networking applications. The current offerings are as follows: Embedded Ethernet (Non-PCI or Local Bus), SuperSpeed USB-to-LAN, Embedded Network /USB SoC, I/O Connectivity products.