Unbeatable Together
Strong Alone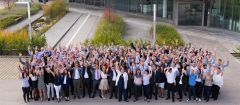 Everyone Smiles in the Same Language
The key to success is diversity. As a globally operating family company employing people from 18 nations, we put a great emphasis on understanding others. The different cultures, views, and nationalities of our staff enrich us, as individuals and in our daily work. In our corporate culture, our employees feel that they can be who they really are. Each and every one is appreciated, and different mindsets are considered an opportunity for development. An open-minded approach toward each other helps us discover the different skills and talents of others and face up to challenges together.
It is no coincidence that 50% of the executives in our company are women. CODICO takes a different approach here, offering part-time leadership schemes to its staff. Women have a different style of leadership, and strong diversity at the executive level benefits everyone. Ensuring equal opportunities for our staff is self-evident, and is practised on all levels at CODICO. We have a long way to go before achieving full equality in our society, but CODICO has been applying this principle without any prejudice since the company was founded.
Get to Know the CODICO Team
Our employees are more than just workers. We are interested in their background, their personalities and their interests. Get to know people at CODICO.
Julia Reiterer, Product Manager & Sales Engineer
My name is Julia Reiterer and I have been working for CODICO as a product manager since 2014. After graduating from a higher-level secondary technical and vocational school, I attended the senior technical college in Wiener Neustadt, where I received a degree in industrial engineering. While still at college, I was given an exciting opportunity to work as product manager for interconnect systems at CODICO. It was a chance I just could not let pass by.
I have been working closely with our suppliers ever since, trying to develop and further expand our product range. Since September 2018, I have also been part of our sales team, covering the western region of Austria as a sales engineer for interconnect systems. My task is to support our customers in their design activities and in finding suitable solutions. Every project is unique, it demands mental flexibility and an eagerness to never stop learning. This exciting combination of being both on the customer and on the supplier side presents me with new challenges on a daily basis, and no two days are the same.
I am privileged to be working in a great team, in which mutual support and delight in one's work are self-evident. With time, work colleagues have become friends, and now we regularly plan joint activities outside work. I like spending my free time with my friends and family, who give me the support I need in life. It's so relaxing to undertake something in nature or just have a cosy evening barbecue together. In recent years, sports has become an essential part of my life and a way to find my inner balance. Sports after work is a must, be it in the gym, on the bike, or running. It helps me wind down after a day at the office, and keeps me active and fit. I use my holidays to travel to near and distant places, be it on beach vacation or on city trips. I just love gathering new experiences and getting to know other cultures and traditions. Fascinating landscapes inspire me, and I love capturing such memorable moments on film. I am proud to be part of the CODICO family!
Petr Roček, Sales Engineer Czech Republic & Slovakia
My name is Petr Roček and I come from Czech Republic. I studied at Czech Technical University in Prague, Faculty of Electrical Engineering. All my professional life I worked in support and distribution of electric components. In the 90s I owned a distribution firm which I sold by the end of 1999. After two years at home, I started at CODICO in 2002 as a Sales Representative and later as a Field Sales Engineers for the Czech Republic. I work in this field up to now. Starting this July I´m responsible for the Slovakia market too. My office is located in the north part of the Czech Republic, near the Giant Mountains.
I really enjoy this job because it is very dynamic and keeps me informed about latest market trends. In my function I look for and support design activities through the Czech and Slovak market. I always try to find the best solution based on customer requirements from our portfolio. This give me the possibility to discover different customers, study and learn a lot about their products and applications, so I can provide them with added value solutions which also benefits CODICO. I prefer to speak personally with our customers. It provides me with new inputs for my job. Attending the Gustav Käser sales training inspired me to interact and negotiate with our customers more, to bring both sides benefits.
I´m an optimistic person and I like to have people around me that are also optimistic like me. At the same time, I´m a rational person. When problems arise, I try to solve them with sensitivity, but consistently. I am also open to change, which is especially important nowadays, when things around us change so quickly. To find a healthy balance in my daily work I spend as much time as possible in nature, working out or with my dog. Whenever is possible I go cycling, play basketball, downhill or cross-country skiing or go for a walk. I feel the need to explore new places all over the world. Each year I plan to make an adventurous holiday. I have already visited almost all the countries in Latin America and South-East Asia. I would love to see the Himalayas, Russia and the Eastern part of the US. Let´s see!
CODICO is an international and multicultural company and for me this is a wonderful thing. It is very interesting to speak with our suppliers, coming from different parts all over the world. Every single day gives me opportunities to learn something new and interesting and makes my business live tremendously exciting. Sometimes the job can be challenging, of course, but after all, my goal is to constantly improve myself. If you want to get to know me better, just visit me or give me a call! I´m looking forward to meeting you in person.
Sergio Rossi, Regional Sales Manger Italy
Hello, my name is Sergio Rossi and I am from Italy. In December 2012 I started to work for CODICO and today I'm responsible for the Italian Active division.Currently, as Italian Active division, we have a beautiful office in Treviso. We are four Italian colleagues for the Active team while we are constantly increasing revenue, enlarging customers' base and deepening our customer relationship - mainly in industrial, medical and automotive markets.
I love my job which allows to create new fields of business, increasing them steadily and having the consent of the people and companies. Our customers appreciate our professional work – from offering devices to help their R&D and to deliver always on time. The market is appreciating our skills and our efforts, so today more people are asking us for our advice in their projects.
My personal work experience started in 1985 with a small Italian distributor. Afterwards I worked for other electronic distributors for 15 years. I have gained experience in sales, marketing and taking over responsibility for a sales team. In 2001 I was part of Xilinx, the biggest FPGA maker, where I spent 8 years being responsible of the two tier Italian customers and part of the sales team of the Xilinx's distributor. It was a good experience for some markets segments like military, medical, and industrial.
I'm based in Nova Milanese which is a small city 8kms north of Milan and I am working from home office. I'm married and I've daughter. In my private life I spend my free time travelling with the family in Italy and lately around Europe. My favorite hobby is model aircraft which gives me the possibility to spend time with friends in an airfield club for this type of aircraft. I'm also part of an Italian acrobatic team, we participate in contests in Italy during the spring and summer. In the cold seasons we prepare the aircraft for the coming year.
Back to CODICO again, I value CODICO as a very good company and a very positive place to work. It is a company where employees are given the opportunity to develop personally and professionally as part of a team.
Judith Obermeier, Order Administration
My name is Judith Obermeier and I have been working in the order administration departement at CODICO since 2014. I have been looking after the 7th Region in Germany, as well as a number of important key customers. What I like about my job in particular is that every order is something individual, and something of a challenge. I really like going into details with each customer, and working together with them to come up with the best possible solution.
As well as the everyday work, I really enjoy the exchanges I have with my colleagues here at CODICO. We like having lunch together, and it's fun for me sometimes to cook for my colleagues as well. Traditional Austrian cuisine is a particular favourite of mine. I love the idea of traditional home cooking bringing in the spirit and the history of Austria. And whether it be from Italy or Hungary, in many Austrian dishes you can detect the influence of our neighbouring countries. And because I simply love to cook, and do a lot of it, my colleagues are also happy if we sometimes enjoy together meals which I have prepared myself.
I have been told that I am a person with a great sense of humour. I'm a great one for jokes, and I'm perfectly ready to laugh at myself too. I like spending my leisure time with my friends and my family. Whether indoors or outdoors, the main thing is to ring the changes. This is reflected in my hobbies, too, my holiday trips, and the whole way I plan and enjoy my leisure time.
For two years now I have been the proud owner of a Vespa. It takes me out into the countryside, but I also like taking part in large Vespa event. And if I'm not out on two wheels, then I enjoy being with my foster dog, »Tim«, a nine-year old terrier. Taking him for walks in the woods around Perchtoldsdorf is a great experience for us both, every time we go out! If you have any questions about order administration or Austrian recipes, just give me a call!