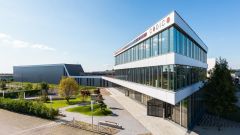 Expansion in 2020
In 2020, CODICO started to enlarge its site by reconstructing the office spaces, creating a recreational park for its employees, and upscaling the logistics centre, thus accommodating the company's recent growth.
In order to continue enhancing the level of service and to boost its capacities, CODICO made a significant investment in its logistics center, allowing it to treble its current capacity.
The new, 5,000m² CODICO warehouse features a markedly higher level of automation and a conveyor technology, rendering the company fit for further international sucess and growth in the future.
CODICO Central Park
The refurbishment of the company's headquarters also provides an opportunity to offer CODICO's employees something probably unique in Austria: the CODICO Central Park, a 12,000m² recreational park.
In addition to outdoor working space, the park offers employees various sports facilities including a pond and space for relaxed get-togethers.
As part of our Corporate Farming Project, numerous types of fruit and vegetables were planted so that employees can obtain fresh produce directly.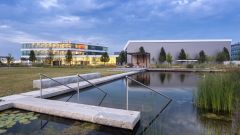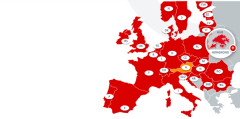 Expansion in Europe from 2008
Since 2008, CODICO has enjoyed a stronger presence in Germany, France and Italy through the establishment of new subsidiaries and/or sales offices.
Since 2011, CODICO is also represented with offices in UK and Denmark.
In 2014, a product competence center was established in Treviso (Italy).
With November 11th, 2015 the acquisition of Broadband Technology AB in the Nordics expands CODICO's presence in the Northern European market.
As a result, we are able to provide a more local customer service in these key markets. Today, in addition to its headquarters, CODICO operates competence centres in Italy, Germany and Sweden, and has a total of 42 offices spread throughout Europe.
The Next Generation from 2004
Upon founder Heinrich Hawlik's retirement in 2004, the succession plan called for the current managing directors, Karin and Sven Krumpel, to assume the reins of the family company.
By 2007, it was time to move again, this time into our present company headquarters on Zwingenstraße. The Office, meeting and training facilities as well as the warehouse and logistics area were designed in line with the latest requirements. Thanks to the future-oriented architecture and design, the company left open the possibility of expanding the site in the future if necessary. An opportunity that was seized in 2020.
It All Started in 1977
CODICO was founded on December 7, 1977 by Dr. Heinrich Hawlik and Ludwig Waktor - with the aim of conquering the world of electronics from Perchtoldsdorf. Then, as now, the company's mission was to distribute electronic components on the strength of a highly customer- and project-oriented strategy.
As a result of CODICO's rapid success, larger office and warehouse facilities soon became necessary. In 1984, CODICO moved into a rather modest building on Aspettenstraße in Perchtoldsdorf. Due to continued growth over the next decade, CODICO finally moved into its own, larger headquarters in nearby Mühlgasse in 1994.