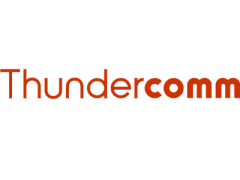 THUNDERCOMM
THUNDERCOMM was founded in 2016 by THUNDERSOFT and QUALCOMM. Based on QUALCOMMs world-leading Snapdragon processors as well as THUNDERSOFTs powerful application and operating system technologies and service capability, THUNDERCOMM is dedicated to providing module and software solutions for IoT, AI, automatization, machine service, smart cameras, robotics, VR/AR devices, mobile devices, drones, and medical devices.
Samples
Contact Person
System on Modules Based on Snapdragon Processors
THUNDERCOMM designs and manufactures SOMs (System on Modules), all based on QUALCOMM's Snapdragon processors, which are equipped with 4xKryo or 8xKryo CPU cores, clocked between 1.6GHz and 2.8GHz in a small manufacturing process down to 7nm. Kryo is the marketing name for QUALCOMM's custom ARM-based CPUs that are compatible with the ARMv8-A 64-bit instruction set and therefore successor to the older 32-bit Krait cores.
Clustered processor cores are divided into 4 or 2 gold cores and 4 or 2 silver cores. The silver cores work in a 300-900 MHz lower clock rate and allow the execution of extreme low power applications. The gold cores are derived from ARM Coretx-A77, -A75 and -A73, the silver cores from Cortex-A55 and -A53.
Processors for Video/ Audio Processing and AI
In addition to the CPUs further processors are available to outsource computationally intensive and complex algorithms in the field of video and audio processing as well as AI for the most delay-free and power-saving execution possible. For example, QUALCOMM's Hexagon DSP (Digit Signal Processor) offers a VLIW and SIMD architecture that can perform up to 4 computing operations in parallel with a single instruction. Another DSP core integrated into the Hexagon allows monitoring and evaluation of sensor applications in sleep mode.
For graphics acceleration, all Snapdragon processors feature a GPU (Graphics Processing Units) called Adreno, whose architecture was originally developed by ATI Technologies (ATI) as Imageon and sold by AMD to QUALCOMM in 2008 and is built exclusively into QUALCOMM's products. For decoding, it supports a maximum resolution of up to 8K at 60 fps (frames per second) and 8K at 30 fps for encoding. Depending on the version, the following APIs are supported: OpenGL ES, OpenCL, OpenVG, Vulcan, RenderSrcipt, DirectX.
Different Interfaces
For the connection of displays, all SOMs have 2x MIPI-DSI 4-lane (Mobile Industry Processor Interface, Display Serial Interface) and some also have an HDMI port. For the integration of cameras, however, 3x MIPI-CSI 4-lane (Camera Serial Interface) are available. In addition to the multimedia interfaces mentioned, there are also the standard interfaces USB3.0/3.1, PCIe2.1/3.0, UART, I2S, I2C, SDIO3.0, GPIOs, etc.
Almost all modules support WiFi and BT and some even GNSS and Cellular.
An overview of further products and DVKs as well as brochures can be found here:
We Offer Customized Snapdragon Solutions
For CODICO, THUNDERCOMM is not just a module supplier. In close cooperation with THUNDERCOMM and QUALCOMM, CODICO can also support customized Snapdragon designs for the first time in its history. This support capability covers both HW and SW development. For more information, please contact Joachim Strohschenk.
Order samples of THUNDERCOMM now! To keep your time to market as short as possible, the latest evaluation boards and samples are available in our shop.
Your Contact for THUNDERCOMM