USB to Fiber Optic to USB
Active Optical Cable (AOC) USB3.0 provides the same electrical inputs as a traditional copper cable, but uses optical fibers between the connectors. An AOC can extend the transmission up to 100 meters by using multimode fiber. The conversion from electrical to optical improves the speed and distance characteristic of the cable without sacrificing compatibility with the standard USB connector interface. Up to 100 meters in multimode fiber, a transmission rate of 5 Gbit/s is possible.
Samples
Contacts
Typical Applications for AOC
High-speed remote storage connectivity
High-resolution security cameras
Remote HD Display Multi-room USB audio systems
Industrial
Medical machine control
Manufacturers & Contacts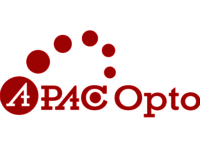 APAC OPTO
APAC OPTO ELECTRONICS is the leading manufacturer of high performance fiber optical transmission components for Local Area Networks (LANs), Wide Area Networks (WANs), Storage Networks (SANs), Metropolitan Area Networks (MANs) and Access Networks (ANs) in Taiwan.
Infos
Samples