For Applications Around Home and Building Automation
The DECT (Digital Enhanced Cordless Telecommunications) standard was developed as a standard for cordless telephones, is well known for its robust transmission properties and widely applied in Europe and other countries. What could be more natural than to want to make use of the excellent physical transmission properties of DECT for the configuration and controlling of sensors and actuators in the sector of home and building automation?
Against this background, a ULE alliance has been formed by the DECT Forum, in order to push ahead with the further development of the existing DECT Standard. On the one hand, compatibility was to be maintained with existing DECT networks, while on the other the new Standard was also to be properly suited for the special technical requirements in the area of home and building automation.
Samples
Contacts
ULE With a Sleep Mode
With ULE a new standard has been created which has taken over the physical layer specification of DECT, but has undergone a number of changes on the MAC level, which make for substantially better performance with regard to low power and reaction time. To achieve this, the performance time for time and frequency synchronizations has been drastically cut when a connection is being setup. This means that the MAC layer can, for example, set up a connection, send check and/or control data, and shut down the connection again, all within 50ms.
Apart from this, the protocol has been extended in its function by a Sleep Mode, which allows for a rapid and efficient change between the sleep periods and radio transmissions. A smoke alarm, for example, which must send a "Stay Alive" message to the central unit every 7 minutes, if fitted with a CR123 battery (1500mAh), can be operated for about 18 years. In addition, ULE can provide the encoding of data and its authentication on the basis of the AES (Advanced Encryption Standard).
For ULE applications, CODICO can offer the System On a Chip (SoC) solution DHX91 from the market leader DSPG. Based on an ARM9 architecture, the module comprises numerous interfaces to connect sensors and actuators, even in low-power mode.
Manufacturers & Contacts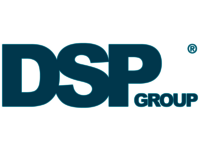 DSP GROUP
With more than two decades of leadership in wireless semiconductor development, the DSP Group offers a comprehensive portfolio of full chipset solutions integrating DECT/CAT-iq, DECT ULE, Wi-Fi, PSTN, HDClear™, video and VoIP technologies.
Infos
Samples