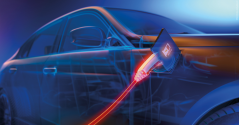 EV Charging Station Model and EV Simulator
Last day @ electronica 2022! Take the chance and talk to our specialists Vasily Budko about one of our highlights, the EV Charging Station!
In order to support the growth of EV Charging Infrastructure and fleet of electrical vehicles, CODICO offers a selection of products to be used in the DC and AC Charging Stations. The EV Charging Station Model runs connected to EV Simulator to demonstrate ISO15118 Stack Charging capabilities. Together with the market-leading Powerline Communication HomePLug AV/ISO15118 solutions, CODICO provides a broad range of products for various parts of EV Charging Stations (also known as EVSE).
Your Contact Person
For more information, please contact Vasily Budko.