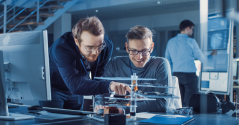 FAE-Designed Demos in the Application Area
Last day @ electronica 2022! Take the chance and talk to our specialists Magnus Gustavsson and Nicodin Turdeanu about our highlights, the CODICO Lab!
CODICO is dedicated to Design-In, marketing and sales of top-quality electronic components. Together with cross-disciplinary project management, we provide technical support, consultation, and advice, from the initial development phase right through to production and beyond. In the CODICO Lab application area, our world-class FAE team has built some demos that are representing our value-add capabilities.
Your Contact Person
For more information, please contact Magnus Gustavsson.