CODICO Won the Complete Set of Medals at the "Distributor of the Year" Award 2022 !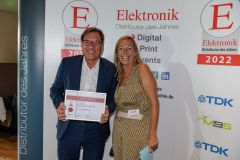 Distributor of the Year 2022
We are proud to announce that CODICO is once again one of the TOP distributors! This year we were able to win the complete set of medals at the "Distributor of the Year" awards ceremony.
In the "Specialist distributors for connection technology, passive components, electromechanics and power supplies" category, we took first place in the "Digitization" special prize. And in the category "Specialist distributors for semiconductors, embedded, displays and assemblies" there was a silver medal for the special prize "Sustainability" and the bronze medal also in the category "Digitization".
This is another sign that our work is not only recognized and honored by our customers in Europe, but also that we are among the best from our customers' point of view! We are very proud of this award and congratulate and thank everyone who contributed and voted for us!
"This award is for everyone here at CODICO - because only our commitment, the daily dedication of every team member and the professional support that we offer our customers make the success of CODICO possible! It is an exceptional honor as a design-in distributor to receive an award in the special distributor category."
Thank You for Your Vote!
We are very proud of our award and sincerely thank all who contributed to this major success and gave us their vote! We are looking forward to further successful years together with our team, our customers and our partners!
Your Contact Person