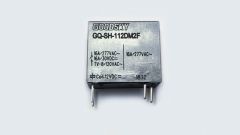 A New Standard in the 16A Relay Class
GOODSKY's new 16A version of their GQ series represents the next level of miniaturization. Compared to the famous RT relay, the space consumption on the pcb is reduced by 50% with only 180mm². A double layout allows to replace relays of the RT standard which offers cost savings.
The relay is made for ambient temperatures up to 105°C. The contact pins are reinforced to manage temperature rise. The relay is TÜV listed with 50.000 operations at 16A/277VAC and 105°C and UL- and IEC approved. AgSnO + Indium contacts secure excellent performance in case of inrush currents, the component is TV-8 tested for 30.000 operations. Additionally insulation is reinforced, a glow wire version and a THR reflow solderable version are optional.
Download Datasheet
Compact dimensions of 18x10mm
Reinforced insulation of 7mm clearance and 8mm creepage
Coil sensitivity: 360mW
Coil voltages: 5-48VDC
105°C maximum ambient temperature
High inrush performance
Version meeting the glow wire requirements available
Reflow version available on request
UL- and IEC approved
Typical Applications:
Heating controls: high efficiency pump, burner, mixer, ventilators
Home automation/Smart home: blind controls, remote controls, door controls
Industrial controls, time delay and control relays
Measuring and testing equipment
Light controls
Your Contact Person
For further information, please contact Michael Blaha.