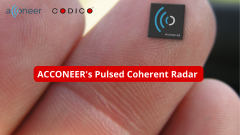 CODICO Hosted the ACCONEER Live Webinar on Radar Technology
If you missed the live webinar hosted by CODICO on ACCONEER's Pulsed Coherent Radar technology and its application in battery-powered applications for Industrial, Consumer Electronics and IoT, you are welcome to find a recording here.
In this webinar, you will get an introduction to the unique capabilities of the A1 Low Power radar sensor with high precision and Pulsed Short-Range Radar technology. We will also talk about applications where this technology plays a key role.
To the Webinar
Your Contact Person
For further information please contact Johannes Kornfehl.