New PANTA® IDC Jumper from SUMIDA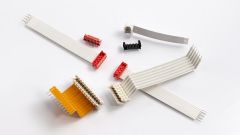 For a Particularly Robust Design
SUMIDA is expanding its portfolio with IDC jumpers in various combinations. The IDC insulation displacement technology is suitable for applications that require a particularly robust design, first-class transmission characteristics and a high degree of flexibility.
The PANTA® IDC jumper combines the advantages of the flexible THT solderable PANTA® FIX jumper on one side with the pluggable interfaces of LUMBERG, PANCON, STOCKO and TE on the other.
This design enables use in difficult assembly and erection situations and permits simple replacement of individual components thanks to the pluggability and detachability of the plug connection during servicing.
Possible Combinations
Possible IDC Plugs Supplier

Article Group

SUMIDA Jumper

Pitch A

(2.54mm)

Pitch F

(2.5mm)

Pitch B

(1.27mm)

Lumberg Connect GmbH

RAST-2.5

x

Lumberg Connect GmbH

MICA Micromodul

x

Pancon GmbH

MAS-CON

x

Stocko Contact

Eco-Tronic

x

Stocko Contact

RFK 2

x

TE Connectivity

Micro MaTch

x
Product Benefits
Pluggable and detachable connection of assemblies/PCBs
Connectors with standardized interfaces from LUMBERG, PANCON, STOCKO and TE
The conductors of the PANTA® FIX Jumper are protected, corrosion- and vibration-proof in the insulation displacement terminals.
Flexibility between the modules to be connected through the PANTA® FIX Jumper
Loose contacts, contact resistances and overheating are avoided
Long-term stability of the connection and contact reliability
Your Contact Person
For more information, please contact Julia Reiterer.