Reliable High Power Density Unit (700W) Power Supply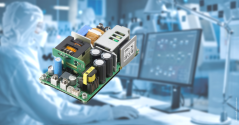 COSEL Setting an Industry Standard Again
The new GHA700F complements the existing 300W and 500W range in 3x5 Inch format. COSEL has combined the latest power switching topologies, digital power and energy optimisation algorithms, silicon carbide and the most advanced components to minimise power losses. With this, the Japanese manufacturer once again sets the industry standard in terms of power density.
DOWNLOAD DATASHEET
Seamless Integration into (BF)-Applications
The GHA700F complies with the medical IEC 60601-1 and is designed to meet EN60335 (household). In addition, it meets the EN61558-2-16 (OVC III). Using the latest power switching topology and components, it achieves an excellent efficiency figure of up to 96% and with dissipating heat over its aluminium base plate it allows seamless integration into numerous applications.
The GHA700F comes in four output versions: 24V/29.2A, 30V/23.3A, 48V/14.6A, 56V/12.5A. The GHA700F has a 4kVAC (2MOPP) input to output isolation voltage, 2kVAC (1MOPP) input to frame ground (FG) and 1.5kVAC (1MOPP) output to FG. With a patient leakage current of less than 100mA, the GHA700F allows seamless integration into body floating (BF)-applications. The standard five-year warranty emphasises the high-grade quality of the product.