AMPIRE's 7.0" Outdoor-TFT-Display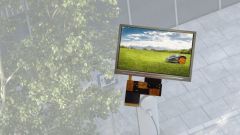 Outdoor Challenges? AMPIRE Accepted!
Outdoor applications are sometimes a challenge for a display. AMPIRE offers a 7.0 "display with outstanding characteristics that has been specially optimized for outdoor use.
Above all, the brightness of 1500cd/m² offers good readability even in glaring sunlight. The operating temperature range is -30°C to +85°C. Therefore, applications under extreme conditions, whether in the cold north or the hot south, are no problem. In addition, this type has also been successfully tested at -40°C.
DOWNLOAD DATASHEET
Technical Details and Features:
Worth to mention is the IPS technology with a wide viewing angle in all directions. It enables both a horizontal and a vertical mounting position.
The display has an internal backlight driver with 12V supply, which offers the possibility to control the brightness via a PWM signal. The backlight lifetime is specified at 50,000 hours.
Various options are available. For example, the display can be equipped with a projected capacitive touch. Likewise, a front glass in different thicknesses and on request also customised (shape, colour, logo - from 500 pcs.) is possible.
The interface is available not only as RGB (TTL) with 24bit (16.7 million colours can be displayed), but also as LVDS on request. HDMI is possible using an additional board.
Features:
Size (Diagonal): 7.0"
Resolution: 800*480 pixel
Brightness: 1500cd/m²
Viewing Angle: 80°/80°/80°/80°
Interface: 24bit RGB
Temperature Range: -30°C ~ +85°C
First and foremost is e-mobility with its charging stations, but outdoor vending machines or railway applications are just some of possible areas.