Automotive Interconnect Solutions for EV Charging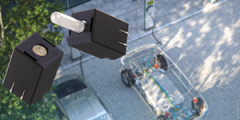 Power Supply Products Up to 1000A
AMPHENOL CS offers a wide range of innovative interconnect solutions for modern EV charging stations. Power supply products up to 1000A with low contact resistance and high thermal load capacity are provided for electric vehicle charging.
The energy efficient connectivity extends from level 2 chargers to level 3 Super-Fast Chargers capable of charging an EV battery in less than 30 minutes, in addition to IP67 sealed connectivity for underground wireless charging.
Level 2 EV Chargers
Level 2 EV Chargers can charge a 40kWh battery in 3-7 hours and a 75kWh battery in 5-11 hours. AMPHENOL CS supplies energy-efficient high-performance connectors that are installed in the power module boards of these charging stations.
Level 3 EV Charging Stations
Level 3 EV charging stations are high-performance Super-Fast-Chargers that can charge 40kWh batteries in just 30 minutes and 75kWh in less than 2 hours. AMPHENOL CS offers improved power connectors for power modules and busbars that meet current and voltage ratings of 100A and 480V.
The Super-Fast Chargers save time by giving the electric vehicle the fastest boost. The busbar connectors and cable solutions are ultrasonically welded and offer a current carrying capacity of up to 200A/contact for the powerful AC/DC inverters.
Wireless EV charging systems
Wireless EV charging systems situated underground can charge the EV parked above through induction technology. Amphenol promises sealed high power solutions with IP67 specifications that are custom designed for the charger cabinets often prone to harshest of weather conditions.
Wireless EV charging systems located underground can charge the vehicle parked above using induction technology. AMPHENOL CS promises sealed, high-performance solutions with IP67 specifications, specifically designed for charging stations that are often exposed to the harshest weather conditions.
Featured Products:
PwrBlok® Connectors
PwrBlok® provides a high current connection with quick connect/disconnect function for space constrained board-to-board, board-to-busbar and busbar-to-busbar power distribution applications.
Current carrying capacity from 65A to 140A
Press-fit tails for mounting on PCBs and busbars
Find more power connectors from AMPHENOL CS HERE!