DINKLE's 0177 Series for Power Supplies
Terminal Blocks With a Wide Range of Voltage Options
With the steady progress of Industry 4.0, a small power supply with high current carrying capacity is becoming one of the most important devices. For this reason, DINKLE has introduced the 0177 series as the optimal solution for the new generation of power supplies in the context of Smart Factory.
The terminal block series 0177 with front entry offers a wide range of voltage options depending on the available pitch sizes between 3.50mm and 10mm.
The highest voltage is up to 600V/66A under UL (IEC up to 1000V/76A). There is a choice of versions with horizontal and vertical wire insertion direction.
Save and Fast Wiring
Thanks to the advanced push-in design, ferruled or solid wires do not require a tool for the insertion which results in saving more than 60% of wiring time. For a stranded wire connection without ferrules, the terminal point can be easily opened from the front side by using a screwdriver.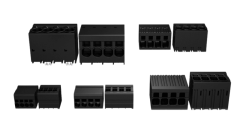 Flexible Combinations
The square housing fits in any modular application. The stackable design allows a flexible combination of terminal blocks with different colors or alphanumeric printing according to customer requirements. It notably reduces wire configuration errors.
Firm Connection for Stable Current Output
The 0177 series supports multiple or zig-zag solder pins which are tightly connected to the PC board. This structure ensures the stability of the high current transmission.