Energy-Saving, Reflective TFT Displays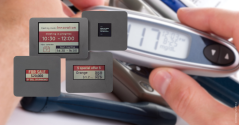 YEEBO's Innovation: Reflective TFT-LC Displays for Optimal Power Savings
YEEBO introduces a series of new reflective TFT-LC displays. These displays are optimised for lowest power consumption and feature high energy efficiency, In contrast to conventional displays, they can save up to 80% of the energy usually required.
Energy Efficiency and Versatility in Various Applications
These displays do not have a backlight, which is responsible for the main part of the energy consumption, but use the ambient light to ensure readability. This is supported by a special reflective layer that additionally increases contrast. At the same time, this provides a paper-like reading experience. Usability is increased and eye strain is reduced. Under direct sunlight, the displayed image of these new modules is therefore particularly easy to see.
A specially developed controller IC with extremely low power consumption also contributes to energy savings. Compared to other TFT controllers, this IC requires only a few mW when operating.
To ensure readability in the dark, a so-called front light can be used. Here, too, comparatively few light-emitting diodes are used, which also helps to save power.
At present, YEEBO has introduced four different display sizes - 1.54", 2.13", 2.9" and 4.2". These displays support the following colours: black, white and red.
All versions are provided with an SPI interface, but can also be equipped with an 8-bit interface for 8080 microcontrollers if required.
Of course, the other data correspond to the usual parameters of standard TFTs, e.g. the fast response time in the range of milliseconds. The temperature range is in the industrial range, from -20°C to +70°C.
Size (Diagonal)
1.54"
2.13"
2.9"
4.2"
Resolution
200*200 pixel
122*250 pixel
168*348 pixel
300*400 pixel
Lighting
reflective | frontlight optional
Viewing Angle
60°/60°/60°/60°
Interface
SPI
Temperature Range Top
-20°C ~ +70°C
Diverse Applications Across Industries
These displays are mainly used in battery-powered devices. Here they significantly extend battery life and also offer additional advantages over conventional monochrome LCDs. By displaying colours, for example, areas can be highlighted.
They are used in the healthcare market - oximeters, blood pressure monitors, glucose meters, and many more. Furthermore, they can be found in electronic price tags in supermarkets. Not to be forgotten is the leisure market, especially the outdoor segment - computers for bicycles, GPS trackers for hiking and mountaineering, but also special applications such as avalanche search devices are amongst the applications.
These new displays are also interesting for industrial use, mainly for devices that work stand-alone and have to have a long service life, such as control units for energy consumption measuring devices.