FG-R05-3A Current Sensor by KEMET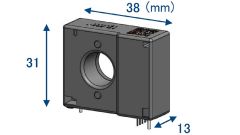 For DC and AC Leakage Current Measurement
In applications like e-mobility charging, but also in renewable energies, the detection of possible leakage currents is essential. The FG-R05-3A from KEMET is exactly built for these applications, sensing AC as well as DC leakage currents, giving a corresponding alarm-signal as well as an analog output proportional to the leakage current.
Features of the FG-R05-3A
IEC62752:2016 und UL2231:CCID20 – conformant
Fast AC (30mA) and DC (6mA) leakage IEC threshold
For IC-CPD Mode2 charging
Pincompatible device for Mode3 charging will follow
For IC-CPD and Wallbox Applications (AC charging um to 22kW)
FG-R05-3A Sample
Your Contact Person
For more information, please contact Thomas Berner.