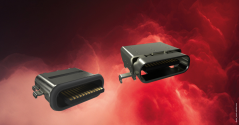 Multi Compatible USB4 Connectors
AMPHENOL CS' Thunderbolt 4-compatible USB4 connectors combine power load, tunneling USB, PCIe® data transfer and DP video and audio capability in a single TYPE C connector, ideal for applications in storage, notebook (laptop), tablet, docking, peripherals (monitor/display, projector), automotive infotainment, home entertainment and more.
SAMPLES
Making the Most Popular Standards Even More Popular
Features:
Power delivery up to 100W
High-speed transmission up to 40Gb/s
Support 4K UHD 60Hz display
Reversible plug and cable orientation
All-in-one simplicity
Universal Serial Bus (USB) is one of the most popular interconnect standards. The ease in usability along with its rapid evolution to meet the ever-increasing data, speed and power delivery requirements are the reasons that created an undeniable position for USBs among other input output connectors.
With the advent of compact reversible USB Type-C connectors, its popularity gained further momentum. It is today widely used in sleek tablets, smartphones and other advanced portable devices. To accommodate this, USB has released a protocol that meets enhanced data transmission rates at shorter intervals - the USB4. This new technology combines Thunderbolt™ protocol specifications with the earlier architectures like USB 3.2 and 2.0 marking the next generation performance of USB devices.
USB4 supports multiple data and display protocols while simultaneously doubling the maximum aggregate bandwidth. It leverages on the Type-C interface, which is already in use as the external display port in many devices, so as to allow the host to scale up on display related data allocations.
This new protocol is also backward compatible with its predecessors like USB 3.2, USB 2.0, and Thunderbolt 3, helping each other to make use of the maximum capacity of both the connected devices. It supports two-lane operation and doubles the bandwidth to improve performance over USB Type-C cable and is offered in both 20Gb/s and 40Gb/s transfer speeds.
USB4 Connector Range
Designed with excellent copper alloy, the terminals provide high power delivery of up to 100W and an extended 5A current rating. The USB4 Type-C connectors feature power charging, tunneling USB, PCIe® data transfer, and DP video and audio capability in a single Type-C connector. The USB Type-C interface is retained for enhanced user experience with reversible plug and cable orientation making it an ideal choice for emerging applications.
USB4 Gen 3 Type-C connectors support DisplayPort protocol to drive multiple 4K UHD at 60Hz. They are also backward compatible which means all-in-one simplicity between device connections.
The USB4 Type-C is structurally efficient and features a middle plate with an enhanced wiggle-free sidewall, which maximises the contact area and stabilises contact performance, as well as minimises the possibility of signal intermittence and that of wear and tear. The extended side wall plate at the corner of the tongue protects it from damage caused by inserting a non-Type-C plug like a Micro USB. The grounding sidewall provides better EMI protection and the added dimple at the inner shield ensures a perfect plug-in position.
Your Contact Person
For more information, please contact Julia Reiterer.