New Multimedia SoCs for Audio, Video and ML/AI Processing

Optimised ML/AI Applications
SYNAPTICS launches new Multimedia SoCs VS680 and VS640 for smart displays, camera and AI processing at the edge applications. The new SOCs have a powerful Quadcore Cortex-A73 CPU and are accompanied by SyNAP™ toolkit which enables customers to build optimised ML/AI applications for Video, Vision and Audio AI.
Smart Screens, IP cameras and surveillance systems for a new generation of home and public area security with AI-enabled edge-computing solutions including computer vision, voice and neural network accelerators that supports trillions of operations per second are just a few examples of possible use cases.
Key Features of the Synaptics VS680:
CPU
Quad-Core Arm® Cortex®-A73 processor with security extensions
Up to 2.1GHz for each CPU, delivering up to 40000 DMIPS
Supports standard tool chains (ARM, GNU)
Memory Interface
DRAM controller
64-bit LPDDR4/LPDDR4X-3733
Supports optional 32-bit DDR configuration
Supports up to 4GB memory space
Neural Processing Unit
Dedicated hardware for localised NN/machine learning applications
Up to 6.75TOPs (INT 8)
Up to 1.69TOPs (INT 16)
Support for multiple DNN frameworks and optimised for TensorFlow™ Lite inferencing via the SyNAP™ toolkit
Multi-Standard Video Decoding
Video decoding
AV1 main profile (8- or 10-bit, YUV 4:2:0) 2160p60
H.265/HEVC main 8-bit and 10-bit (ITU-R BT.2020)
Support for up to 1080p120 single-stream decode
Still picture - AVC, MPEG2 I picture decode
Security
250MHz secure CPU (Arm® Cortex®-M3)
2D & 3D Graphics
GPU based graphics engine (Imagination™ PowerVR™ Series9XE GE9920)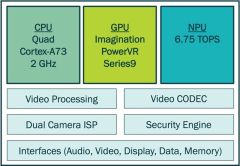 Your Contact Person
For more information, please contact Achim Stahl.