THUNDERCOMM: Accelerating Time to Market
Robotics and Smart Camera Products With THUNDERCOMM SOMs
THUNDERCOMM SOMs incorporate the QUALCOMM SoCs, power management, RAM and Flash memories as well as wireless connectivity (up to BT v5.3 and WiFi6) and are offered with a supporting development platform. QUALCOMM has released a number of extended life system on chips for Robotics, Smart Camera and industrial automation applications. These powerful devices integrate many exciting features, dual camera ISP, up to 8ARM compute cores, DSP, GPU and AI and more into a single die.
System on Modules and System on Chips
THUNDERCOMM offer a selection of system on modules (SOMs) to reduce the effort, time and risk to develop products based on these devices. CODICO has entered into a partnership with THUNDERCOMM (in 2019) to support our customers across Europe to select the right SOM for their applications and to design in these devices quickly.
The overview shows the capabilities of some of the latest industrial grade, extended lifetime SoCs available from QUALCOMM targeting Smart Camera enterprise security, retail, videoconferencing, Robotics (service, warehouse robots, AGVs, drones) and industrial automation applications (QA inspection, process control). While these powerful SoCs are now available to developers for integration into systems, customers often lack sufficient development time - and sometimes expertise and resources - to develop products based on these complex, multifunctional devices.
The SOM Roadmap
THUNDERCOMM offers a broad portfolio of QUALCOMM SoC based SOMs to address everything from wearables, handheld computers, factory automation systems and services robots. Starting with the entry level to the premium end their roadmap offers increasing levels of compute, camera and video processing as well as computer vision, AI and cellular connectivity including 5G. The SOM roadmap is carefully constructed with pin for pin compatible SOMs to enable designers to build product roadmaps around QUALCOMM SoC families for example QCS610/QCS410 for Smart Camera applications and QCS2290/QCS4290 for handheld terminals. In many cases their SOMs target long life industrial applications (typically 8-10 years). Extended temperature range support (-40°C to 85°C) is also offered on select SOMs to support applications in harsh environments e.g. Robots on farms, construction sites or mines.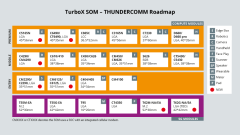 Your Contact Person
For more information, please contact Thomas Carmody.