The electronics industry is evolving and these changes are having a big effect on the power design market. Power Modules from Monolithic Power Systems (MPS) offer the following advantages:
Ease of design
Cost effectiveness
Small QFN package reduce board-space
Higher performance than traditional discrete solutions
Higher modular integration leading to easier PCB layout
Superior performance and size advantages when compared to other industry leading solutions
Low EMI (Meets EN55022 Class B)
Scalability & Programmability (I2C & MTP, Graphic user interface available)
The wide span of Modules includes:
Buck-Modules with Single Output (fixed and programmable options)
Buck-Modules with Multiple Outputs (fixed and progarmmable options)
Buck/Boost-Modules

Isolated Modules
Single Output Modules: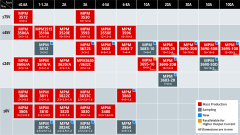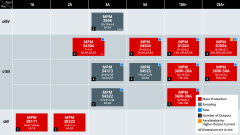 Order your Evaluation Board at the CODICO Sample Shop!
Would you like to convince yourself of the quality and efficiency of the MPM stepd down modules from MPS? Then order your Evaluation Board in our Sample Shop right now!
Evaluation Board for MPM3506A
EVM3506A-QV-00A
36V/0,6A Synchronous Step-Down Converter with integrated inductor
Switching frequency: 1,15MHz
Preset Board Output Voltage: 3,3V
3 x 5 mm QFN package
MPM3506A
Evaluation Board for MPM3515
EVM3515-QV-02A
36V/1,5A Synchronous Step-Down Converter with integrated inductor
Preset Board Output Voltage: 3,3V
Available also in AECQ100
3 x 5 mm QFN package
MPM3515
Programming Kit for PMIC MPM54304
EVKT-MPM54304
16V Programmable Quad-Ouput Step-Down Module with integrated inductor
4 Outputs: 2x2A and 2x3A
Including USB to I²C Programmer
7 x 7 mm LGA package
EVKT-MPM54304
Evaluation Board for MPM3620
EVM3620-Q-00B
24V/2A Synchronous Step-Down Converter with integrated inductor
Fixed frequency: 2MHz
Preset Board Output Voltage: 3V
3 x 5 mm QFN package
MPM3620
Evaluation Board for MPM3804
EVM3804-G-00A
5,5V/0,6A Synchronous Step-Down Converter with integrated inductor
91% peak efficiency
Preset Board Output Voltage: 1,2V
2 x 2 mm QFN package
MPM3804
Evaluation Board for MPM38111
EVM38111-R-00A
6V/1A Synchronous dual Step-Down Converter with integrated inductors
Preset Board Output Voltage: 1,8V and 1,2V
4 x 4 mm QFN package
MPM38111
Watch the video to get more information:
Powerful Buck Modules by MPS
Our partner MPS is a leader in the development of small, but powerful switchers and dc dc power modules by using the propriatry BCD manufacturing process. It combines MPS power transistors and control circuitry in a single monolithically integrated chip. This allows higher frequency switching and higher efficiency.
The MPS process also produces a smaller die, which in combination with a high switching rate enables smaller inductors, that can be accommodated together with the IC directly in a small QFN package instead of the BGA packaging used by competitors. It is not only the size of the device, QFN packages are easier to solder in the production process, resulting in a better PCB yield.
The voltage step down modules are manufactured using a single leadframe, which integrates all the required components, including inductors, passives, and MPS' own industry leading regulator ICs. The elimination of additional process steps and the integration of ICs developed in-house also has the advantage that the buck module becomes more reliable and cost-effective than modules that use multi-stage techniques.
The MPM modules from MPS are high voltage dc dc converter with built-in, internal power MOSFET and integrated inductor. They combine the maximum number of external components, while still providing comprehensive flexibility for the designer to tailor the device's attributes. All MPM modules are available in a space-saving QFN package, some even in an AECQ100 version for the automotive industry.
Isolated DC/ DC Power Modules
MPS's isolated DC/DC power modules provide engineers with a superior isolation barrier that more easily meets design specifications, reduces magnetic interference, and comes in a smaller, low-profile size with standard packaging that makes application simple and reliable. They are ideal for a variety of products, including medical and industrial automation, inverters, smart meters, and more.
By using capacitive isolation technologies MPS can offer following advantages:
Long lifetime
Low supply current
Saving space
High data rate, >100Mbps
High CMTI, >100kV/us
Short propagation delay
Low emission
High immunity for magnetic noise
Based on this technology MPS also offers
Isolated DC/DC Power Modules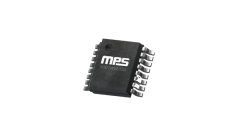 MIDxxW0505A
Isolated Power Modules: 0.25W to 1W
Input Voltage Range: 3V to 3.6V, or 4.5V to 5.5V
3.3V/5V Output Voltage
0.4% Load Regulation, 1.5% Line Regulation
1.5kVDC/3kVDC Isolation
Integrated Transformer
Passes CISPR32 Class B EMI
Available in an SoICW-16 Package (10.3mmx 10.3mmx2.5mm)