STK Fan - As Fast as the Wind!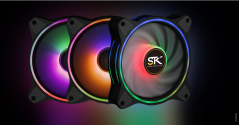 High-Performance and Readily Available via CODICO Sample Shop
Axial fans from STK Fan not only impress with their high static pressure and maximum air flow in a wide range of designs and frame sizes, but also with their reliable and fast availability. To ensure this as early as the design-in phase, CODICO has now integrated selected fan and blower motors into its Sample Shop.
SAMPLES
Versatile Fan Solutions: From Miniaturized SFA1504 to High-Performance TRY1238B48H Series
The sizes between 40x40x10mm and 120x120x25mm are characterised by an optimised air flow with whisper-quiet operation. They are usually controlled in a range from 12V to 48V. Typical applications are servers and inverters. The model SFA1504 is the smallest fan available in the Sample Shop with a housing size of only 15x15x4mm. This miniaturised DC fan with 5V has a very low power consumption and is therefore particularly suitable for 3D printing pens, micro projectors and portable air purifiers.
For use in EV charging stations, the TRY1238B48H series with 3-phase motor and aluminium frame is a perfect choice. With the help of the dynamic impeller design, this model achieves an air flow rate of >300CFM. In addition, this fan complies with the IP67 protection class.
Following the trend of energy saving, the TRL17238 model can be operated with a low rated current and power consumption. At the same time, it offers high torque and efficiency. The large metal impeller and aluminium frame ensure stable speed and very good cooling performance. In addition, this fan has high temperature and chemical resistance. It is ideal for use in CNC machines, robot arms and oil coolers.
Apart from the DC models, there are also fans with AC control in the Sample Shop. The SA12038 and SA15050 can be operated with a mains voltage of 220V-240V. With TRB1232 and TRB7530, two blower motors are also available at short notice.
For optimum performance, DC fans from STK Fan are equipped as standard with a reverse polarity protected, brushless DC motor with automatic restart and a reliable two-ball bearing system.
In addition to the standard models, STK offers some innovative axial fans with extra benefits depending on the application. Special functions such as integrated speed control or alarm signal can be realised on request.
Rapid availability is also guaranteed when the fans are supplied assembled with a mounted connector.
STK axial fans are ideal for applications such as EV charging stations, industrial cabinets, telecommunications, networks and high-power medical equipment.